Control your BlackBerry® from your desktop
You can try all the features of this program for 14 days, after that, you can choose to buy or to remove it from your phone.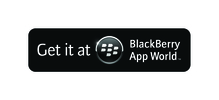 Advanced Users
Portable apps: just unzip the file somewhere and run the executable, no need to install.
Without JRE, if you know for sure that you have 32 bit JRE in your system (especially if you are in 64 bit system and you plan to use USB/Bluetooth). Currently RIM's Desktop Manager is 32 bit only so the USB is only available for 32 bit Java. If you are using 64 bit system, make sure you only have 32 bit JRE installed (not both 64 and 32 bit JRE). Since version 1.1.7, the launcher will try to use 32 bit VM if available.
Older version is available for download in case you have a problem with the latest version.
Buy
Only 4.99 USD per BlackBerry® smartphone.

For Indonesian, you can buy by transfering money through Bank BCA
Trademark notice
The Trademark BlackBerry® is owned by Research In Motion Limited and is registered in the United States and may be pending or registered in other countries. This software is not endorsed, sponsored, affiliated with or otherwise authorized by Research In Motion Limited.